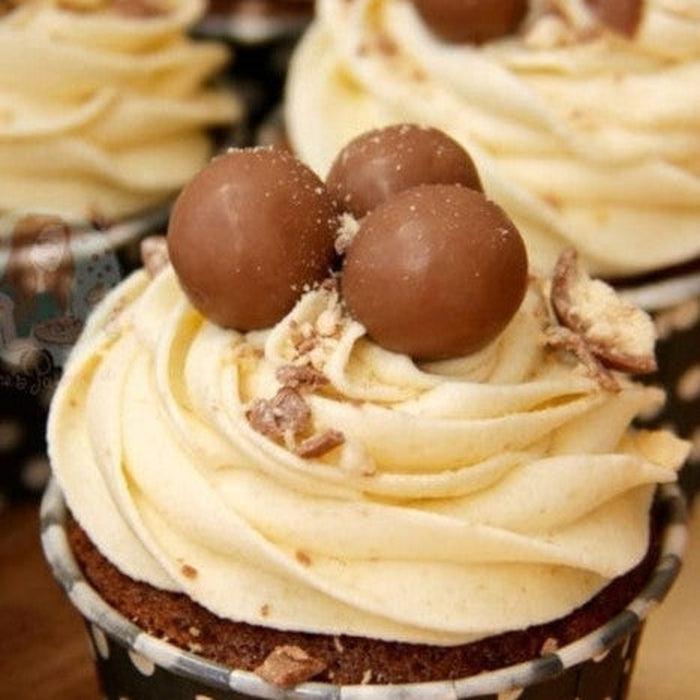 Malteser Cupcakes!
Jacqueline Dyer
Chocolate Malt Cupcakes with Malt Buttercream Frosting. The Perfect Malteser Cupcakes for any occasion!
Ingredients
Cupcakes
150 g Unsalted Butter/Stork
150 g Light Brown Sugar
3 Medium Eggs
140 g Self Raising Flour
15 g Cocoa Powder
25 g Malt Powder (Horlicks/Ovaltine)
1-3 tbsp Whole Milk
Nutella Buttercream
150 g Unsalted Butter (not stork)
375 g Icing Sugar
25 g Malt Powder (Horlicks/Ovaltine)
1-3 tbsp Whole Milk
Decoration
Maltesers
Crushed Maltesers
Grams - Ounces
Instructions
Preheat your oven to 180C/160C Fan, and prep your 12 cupcake cases. I used Iced Jems Baking Cups so just put them on a flat tray.
Beat together the butter and sugar until light and fluffy, and then add in the self raising flour, cocoa powder, malt powder and eggs.
Beat again until smooth, if needed, add the milk to smooth the mixture.
Split the mix evenly between the cases. I use an ice cream/cookie scoop to get them all equal.
Bake in the oven for 18-22 minutes, or until baked. Cool Completely.
Beat the unsalted butter (best at room temp), for a couple of minutes until smooth.
Add in half of the icing sugar and beat, and then the other half and beat.
Add in the malt powder again, and beat!
If its too thick, add in 1tbsp of whole milk at a time till it becomes pipeable.
Pipe on the buttercream – Add some maltesers, and then sprinkle on some crushed maltesers as well! Enjoy!
Notes
Horlicks powder works well as do most Malt powders (which need Milk added to them) such as Ovaltine!
If you want an extra chocolatey fix, you can add in 100g of chocolate chips to the cupcake mix!
If you are loosening the cupcake mixture or the buttercream with Milk, its important to use Whole Milk because of the fat content, using Semi-Skimmed might make it split.
These cupcakes will last in an airtight container for 3 days at room temperature!